Printable fall calendars from MES Calendars.
Printable 2020 calendars with images of fall scenes, forests, mountains, fall colors, fall foliage and fall leaves
. Personalize the calendars with 2020 holidays, birthdays or important dates. You can also just print a blank monthly calendar with fall background images.
Free fall photo calendars with fall photo background images
: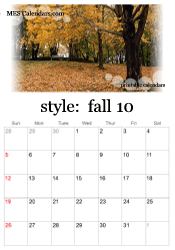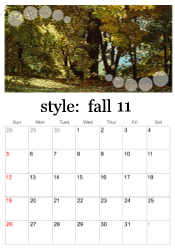 These fall photo calendars to print let you add your own personalized information for any day of the month. Use them for chore schedules, homework schedules, family birthday reminders, and more.